Rod microphone H2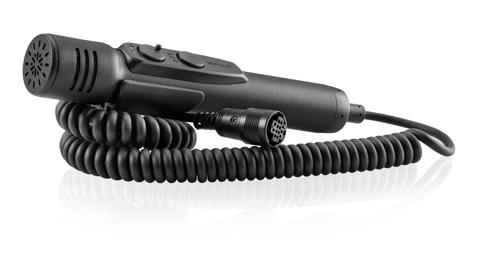 The rod microphone H2 is used for voice announcements with a Hänsch tone sequence amplifier, a Hänsch voice amplifier or in combination with the Hänsch ASM 2.
The new development impresses with improved speech quality and a higher volume control range. Back coupling is reduced immensely.
The microphone can be used from any angle and no longer has to be brought up to the lips for public address. While developing the rod microphone H2, we focused on a cleaner PPT pressure point.
PRODUCT FEATURES
---
Command speaking via push-to-talk button
Volume control
Including holder for the installation in the vehicle
Connection via standard cable harness TFV 6x4 (CAN447/analogue) or via additional connecting cable directly at the
TFV 6x4 CAN447 respectively at the audio switching module (ASM)
Operating voltage: 12 V (in combination with TFV 6x4 / ASM also addable in a 24 V power supply network)
CERTIFICATIONS
---

in accordance with the common EMC certifications (Germany and international)
FURTHER INFORMATION
---