BE 312 Cupholder
The BE312 Cupholder control unit can be used both in covert police operations and in any special-purpose vehicle where
space is limited when installing control units. Building the unit into a standard cup enables easy installation in an existing cup
holder. It is therefore ideally positioned in reach of the driver and can also be fixed in easily. The 12 buttons can be configured
and arranged to suit customer requirements in terms of function and marking symbols. In addition to the CAN components,
configurable inputs and outputs can be used for the evaluation or control of analogue components/signals, as with the proven
HBE300 and BE304.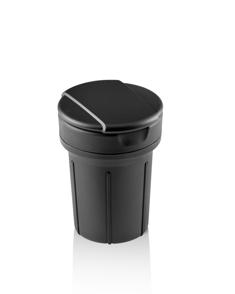 PRODUCT FEATURES
---
12 touches buttons for controlling CAN-enabled equipment
optical function and fault alerts
buttons with location and activation lighting
including analogue inputs and outputs
Installation fixe dans le porte-gobelet du véhicule
securely fitted into vehicle cupholder
housing: car ashtray black
nominal voltage 12 V or 24 V
APPLICATION AREAS
---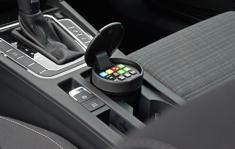 simple vehicle installation
installation in cupholder
proven operating concept / wiring concept incl. FÜP of HBE300/BE304
CERTIFICATIONS
---

EMC according to ECE-R 10 (Germany and International)
FURTHER INFORMATION
---