Audio Switching Module 2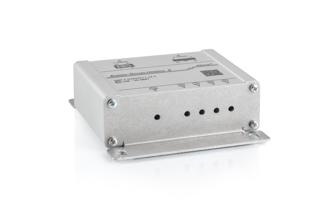 Emergency personnel, security staff or public utility workers: all of them are sometimes tasked with informing and warning the public. This can be required in a disaster situation, in traffic or in general deployment situations. Usually, the only way to do so is a public address microphone which is connected to the exterior loudspeakers of a tone sequence system.
If additional audio - or low-frequency - sources are to be imported, other media such as MP3 players or cellphones are usually at hand. For these devices the ASM 2 is the interface to the tone sequence or amplifier for public address.
The audio sources are selected via a CiA447-compatible control unit, routed to the amplifier's audio frequency inputs from the ASM 2 and played through the pressure chamber loudspeakers. Additionally the ASM 2 offers the option of a 10-second voice recording which can be played in a continuous loop or alternately with the tone sequence. The flexibility and quality of audio frequency signal processing are two more assets completing this product.
FUNCTIONS
---
Switching between up to 4 audio frequency signal sources + 2 PTT
microphones
Source selection, recording / playing of public address and volume
control via CAN447 control unit
Activation of audio frequency paths by line or via automatic gain
detection
PRODUCT FEATURES
---
CAN447 component
Use with TFV 6x4 12 V / 24 V
Electrical connection available on the cable harness of the TFV 6x4, operation with HBE 300 (integrated microphone + push to talk) or BE 3xx + rod microphone)
Two mute outputs
Presetting the basic volume levels of the audio frequency sources on the unit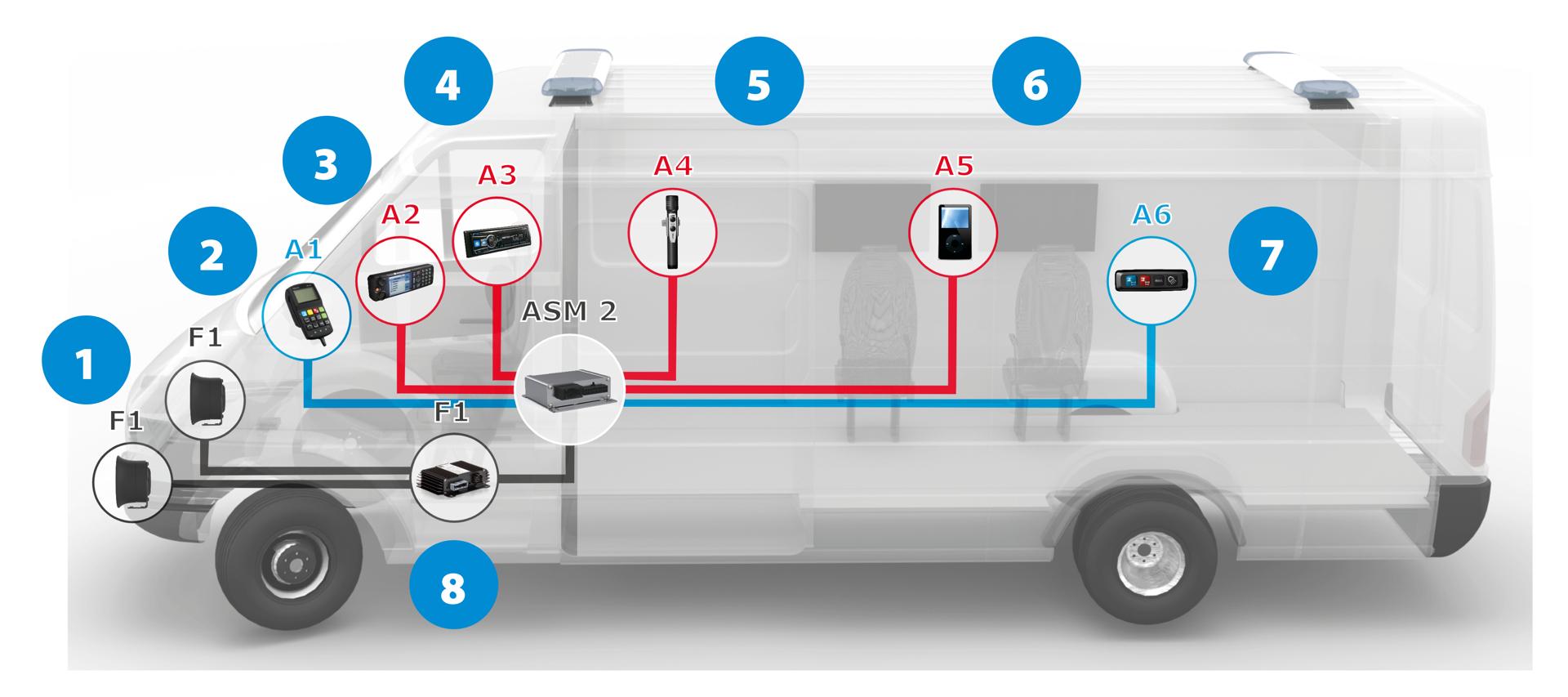 (1) Exterior loudspeaker. Here: 2x DKL 604
(2) CAN447 control unit. Here: HBE 300
(3) Audio frequency source. Here: TETRA digital radio communication unit (connection via internal radio communication
unit loudspeaker)
(4) Audio frequency source. Here: USB/SD slot of the stereo system
(5) second microphone. Here: rod microphone
(6) Audio frequency source. Here: MP3 player
(7) CAN447 control unit. Here: BE 304
(8) Tone sequence amplifier TFV 6x4
Application options in the command vehicle pictured
---
From the driver's cabin:
A1:
Command speaking
Recording voice announcements
Playing voice announcements
Playing voice announcements elternately with the tone sequence
Selecting audio frequency sources or control volume via HBE 300
A2: Selecting radio message of the radio transmitter (may require additional devices) and transmitting them to the outside
A3: Transmitting existing MP3 audio recordings to the outside
From the radio communication station:
A4: Command speaking
A5: Transmitting existing MP3 audio recordings to the outside
A6: Selecting audio frequency source or control volume via BE 304
Functionality:
F1: transmission to the outside by the amplifier 6*4 via the exterior loudspeaker(s) 604
FURTHER INFORMATION
---