Compatibility of work and family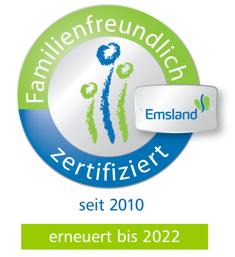 /

/

/

Seal of approval for family friendliness
Since October 2013, Hänsch has offered employees the chance to take advantage of company childcare. As part of the audit by the Emsland Foundation for Work and Family, Hänsch was once again awarded the Emsland seal of approval for family friendliness until 2019.
Professional life and family are two important issues that every company should address. We are delighted if we are able to better connect these two issues.
Project initiator and founder Hans-Jürgen Hänsch explains, "We would like our employees to have the opportunity to return to work promptly after the birth of a child. Obviously, without appropriate external support this is barely possible. For this very reason, we have created a flexible support service which is tailored to the needs of the children while also taking into account the parents' working hours."
Based on positive experiences, Hänsch would like to continue to develop and expand the range of services for "The Little Beacons" together with the Emsland Foundation for Work and Family.
MORE ABOUT "THE LITTLE BEACONS"
---