Universal Control Units
flexible
/

/

/

freely configurable

/

/

/ individual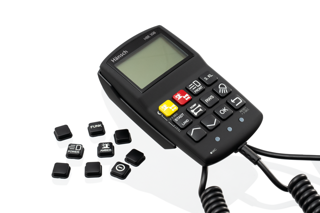 Some of our control units are also available as universal versions. These are freely configurable and can therefore be used for any purpose. The only distinction made here is between the "fire service/emergency doctor" and "police" application areas. The universal control units offer all the advantages of our standard control units. The buttons are individually assignable and interchangeable using the relevant functions. Analogue outputs can be switched. Furthermore, it is also possible to select favourites from a large selection of pre-programmed, user-specific texts, making them quick and easy to display in the stop-signal unit.
Versions of HBE 300 Universal (Fig. FN)

HBE 300 P Universal 1, 12V
HBE 300 FN Universal, 12V
HBE 300 FN Universal, 24V




Versions of the BE 308 Universal

BE 308 P Universal, 12V (suitable for civilian vehicles))

BE 308 FN Universal, 12V or 24 V

Varianten des BE 308 M Universal

BE 308 M-P Universal, 12 V

Versions of the BE 314 M Universal

BE 314 P Universal, 12V
BE 314 FN Universal, 12V
A selection of button labels are enclosed; more key caps are available. All others apart from the basic buttons can be freely exchanged and configured.
Authorisations
---

meets standard authorisations in accordance with EMC (Germany and international)