Suisse Public 2017: Hänsch quality comes out on top – products also impress the Swiss market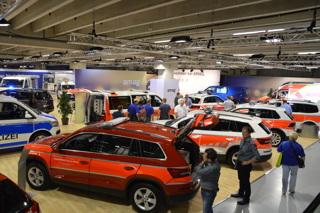 Suisse Public is the largest and most important Swiss trade fair for public sector enterprises and administrations, as well as fire protection and emergency medical services. The showcase of services took place in Bern from 13 to 16 June, 2017. Around 20,000 decision-makers for public procurement learned about industry innovations and trends.
Together with its Swiss partner Vimcom and AMAG (general importer for the VW and Audi Groups), Hänsch was also represented at this important trade fair.
The fact that the products from Emsland have recently managed to establish a foothold on the Swiss market is demonstrated by the number of exhibited emergency vehicles that were presented with Hänsch products. At AMAG's booth, the complete vehicle exhibit was on display, featuring the DBS 5000 and DBS 4000 warning systems in combination with various operating designs. The warning systems' equipment was tailored especially to the requirements of the Swiss market. Industry visitors were able to test the various functions in the vehicles directly, experiencing the operating and equipment design for themselves.
The police in Switzerland are also impressed by Hänsch's quality; numerous cantons now rely on products from the market leader. The stop signal generators were particularly impressive for use in covert police work, sparking a lively exchange of expertise in this segment.
Visitors from the industry were able to get a sense of the versatility of the integrated solutions in the outdoor area. Every well-known body manufacturer presented the custom-tailored special solutions by Hänsch.
By taking part in Suisse Public, Hänsch was able to get a comprehensive impression of the industry and market. Private conversations with top decision-makers from the industry provided important information on the challenges and strategic orientation of the Swiss market.
Hänsch intends to be successful in Switzerland in future, expanding and building up its market position by using its knowledge of market conditions and its personal contacts among customers – and potential ones.
IMPRESSIONS