New construction of the development and innovation
centre completed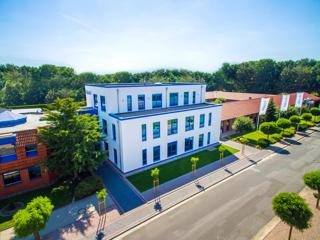 Hänsch has been an integral part of the joint municipality of Herzlake since the company was founded in 1984 and is an important economic engine within the Emsland region. To this day, the company has become an international market leader in the field of innovative warning systems.
Due to its dynamic growth, Hänsch is continuously expanding its headquarters in Herzlake. The construction of a complex development and innovation centre has recently been completed. The expansion was necessary because of the high capacity utilization in the automotive sector. Hänsch has established itself primarily as a competence and innovation partner for individual system solutions of international automobile manufacturers.
With the construction of the development and innovation center, the best conditions have now been created for meeting the challenges of cutting-edge technologies. These include, for example, the conversion of the fleet management of police forces in the field of e-mobility or the communication, networking and digitalisation of emergency vehicles such as "Car-to-Car Communication" or "Hänsch Connect".
With its high-tech strategy, Hänsch not only meets the high quality demands of the automotive industry, but also develops products in the field of special electronics to open up new markets. The process-oriented centralization of international development projects in the innovation center also results in further synergies for sales bases in Austria, Spain, France and the Netherlands, as well as for the branch offices in Sternberg and Berlin.
The geographical location of the new building has great historical significance. The new building is placed at exactly the same spot where the company was founded in 1984 by Hans-Jürgen Hänsch. Today, 36 years later, chairman of the supervisory board, Hans-Jürgen Hänsch, moves into his new premises just two floors higher, and thus returns to historical origins.
Hänsch intends to continue investing in the Herzlake headquarters in the future. Further measures in the automotive sector are already in the pipeline. With its commitment to the Emsland region, Hänsch wants to strengthen the awareness of the region as an attractive location in order to counteract the shortage of qualified professionals in the long term.