Hänsch at the Interschutz Community Days
Review of two spectacular trade dair days in Hanover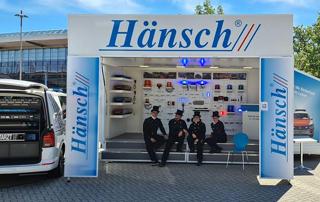 Following a long break from trade fairs, we were able to participate in the INTERSCHUTZ Community Days in Hanover from June 19 - 20. An ideal platform to present product innovations for fire brigades, rescue services as well as civil protection. In addition, exciting competitions of the FireFit European Championships were offered.
Even though a maximum of 2,000 people were allowed on the exhibition site, the resonance of visitors at our show trailer and infomobile was quite high. There was a good personal exchange with decision makers and important representatives of different fire brigade associations.
In addition to the new NOVA-L2 beacon, the visitors' interest was focused on the DBS 4000/5000 warning systems. A large number of the vehicles on display from OEMs (VW, BMW, Ford) and automobile manufacturers (Rosenbauer, MAN, Mercedes) were also presented with Hänsch products.
All in all, we can look back on two successful days in Hanover. The direct and personal conatct was extremely gratifying and very important for all participants after a long break from trade fairs due to the pandemic.
> Click on the image below to enlarge the slideshow.