IAA in Hanover – Secretary of State Dr Berend Lindner visits the Hänsch stand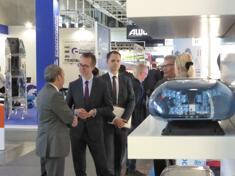 The IAA Commercial Vehicles took place in Hanover between 20/09/ to 27/09/2018 under the slogan "Driving Tomorrow" – More than 250,000 visitors attended the most important trade fair world-wide for transport, logistics and mobility.
Numerous renowned automobile manufacturers such as VW, FORD, MERCEDES, MAN, MAGIRUS, etc., that work in close cooperation with our company, presented their commercial vehicles with products from Hänsch.
The diversity of Hänsch products was most evident at the VW stand. Various vehicles with integrated solutions and the tried-and-tested DBS 4000/DBW 4000 were presented at the stand and in the outdoor area of the trade fair.
The visitor figures at the Hänsch trade fair stand were significantly higher than those of 2016. New projects were initiated, and lucrative contacts were made with customers and interested parties from various fields such as body manufacturers, OEMs, municipalities, rescue services, fire services, the police, airports and the military.
The Hänsch stand was also visited by a delegation from State Secretary Dr. Berend Lindner (Ministry of Economy, Labour, Transport and Digitalisation of Lower Saxony). At the Hänsch stand, Dr Lindner's group learnt about current developments in the area of warning systems and was enthusiastic about the innovative power coming out of the Emsland district.