Hänsch for the second time at the Demopark in Eisenach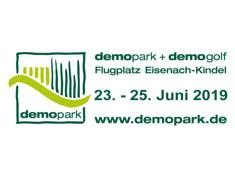 From 23rd to 25th June 2019, the gates of the 11th Demopark, Europe's largest outdoor exhibition of the green, opened. More than 37,000 interested trade visitors found their way to the Eisenach-Kindel airfield in perfect weather. Well-known municipal technology manufacturers presented various equipment and vehicle classes on an area of 250,000 m².
Since the fair appearance in 2017 was very successful, the decision was made to participate again in the fair. This year, Hänsch presented itself with the show trailer, which serves as a mobile exhibition stand. This is equipped with all important products of optical and acoustic warning systems and thus offers an insight into the product variety of the Hänsch brand. The interested visitors had the opportunity to test the different products themselves in action and to convince themselves of the performance and quality of the products.
Despite the extreme weather conditions with up to 38° C, the booth was always well attended. Two sales representatives from the areas Thuringia/Saxony and North-East were available for consultations and product demonstrations.
As the only exhibitor in the industry for optical and acoustic warning systems, Hänsch recorded a lively influx of visitors from procurement authorities, existing customers and interested parties from all federal states. Especially many visitors came from Thuringia, Saxony, Bavaria and Saxony-Anhalt. The Integro Universal LED module and the HT solutions Sputnik-SL-A-T and Sputnik mini HT were of particular interest.
The requirements of the yellow market also offer a lot of potential in the future, as Hänsch has a great variety of products to offer not only in the blue but also in the yellow market. The conclusion at the end of the fair was thoroughly positive: promising discussions were held, new projects initiated and existing contacts cultivated.
Thanks to its successful participation this year, Hänsch is confident that it will also be taking part in the next Demopark from 20th to 22nd June 2021.