Hänsch at the NAPFM in Telford (UK)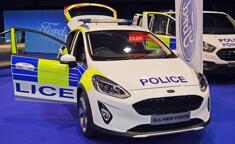 On June 12th and 13th 2018 the NAPFM (National Association of Police Fleet Managers) took place in Telford (UK). The NAPFM is one of the largest emergency service fleet events in Europe and is an important platform for decision makers of the Police & Rescue Service. Trade visitors were offered a comprehensive range of vehicles, equipment and services of the public-sector.
Together with Safeguard SVP, the sales partner in the UK, Hänsch presented diverse products specially tailored to the requirements of the English market.
At the exhibition stand of Safeguard the visitors were able to see a Skoda Karoq and a Volvo V90 converted by Safeguard SVP. A Ford Fiesta was displayed at the stand of Ford. All three vehicles were equipped with the lightbar DBS 5000 in combination with the hand-held control unit HBE 300, the tone sequence system TFA 624, the front flashers Sputnik SL and the takedown display (ASG) for the sun visor. Therefore, a practical consultation and demonstration of the Hänsch warning system was made possible for all visitors.
Concluding the fair was very successful and attracted broad interest from the public authorities. In the future, Hänsch will continue to strengthen and expand its activities on international markets.