Hänsch Exhibition at the Brandpunkter in Denmark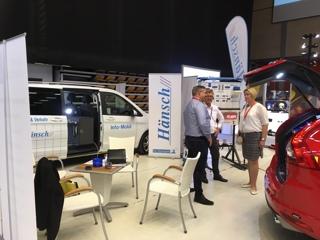 From the 23rd of August tot he 24th of August 2017, the Brandpunkter exhibition was held in Denmark. The Brandpunkter is the most important platform for fire and rescue services in Denmark, as here they can learn about innovations in equipment for emergency vehicles.
Hänsch also took the opportunity to partner with the Danish company "Autogaragen Aps", who helped display Hänsch warning systems at the exhibit. Furthermore, the Hänsch Infomobil was also presented on an ELW Volvo XC60 at our booth.
The vehicle became a magnet for visitors with "Hänsch Vollausstattung". In addition to this many other Hänsch products were extensively tested by the trade visitors, some of these products include, the DBS 5000, the hand control unit HBE 300, the Sputnik SL in Blue and white as well as the Sputnik compact. Variants of the Sputnik have been designed to create optimal illumination in reverse, making them exceptional compact work lights.
Visitors were able to view Hänsch products from Herzlake, not just at the Hänsch stall, but on a wide range of vehicles, including emergency vehicles like fire trucks, where Hänsch warnings systems were shown "in action".
Since the beginning of the year 2016, 87 municipalities in a total of 24 new regions were grouped together in Denmark. Thus there were also changes with responsibilities and decision makers within the areas. This reorganisation had a very important impact on the willingness of people to make purchase decisions.
Knowledge about the condition of the market is an important factor in the success of Hänsch. With a portfolio that is individually adapted to the needs of customers, new opportunities are set to arise in the future in the Danish market for Hänsch.