Hänsch on the Emergency Service Show in Birmingham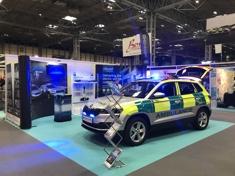 On September 19th and 20th the Emergency Service Show (ESS) took place at the National Exhibition Centre in Birmingham (UK). The ESS offered all people involved in the emergency sector a great place to network and learn. More than 450 exhibitors showcased their products and services.
Together with the sales partner Safeguard SVP Hänsch presented its product portfolio. Especially the DBS 5000, mounted on a Skoda Karoq, dragged the visitors attention. It is specially tailored to the requirements of the market and includes new features such as the functions Wig Wag and Rear Reds. While the DBS 5000 was presented at the NAPFM in June 2018 the first time it was now not an unknown lightbar anymore. Hänsch starts to gain a reputation for being a high-quality supplier on the UK market.
By taking part at the ESS, Hänsch was able to get a comprehensive impression of the emergency industry in the UK. This knowledge about the market is an important success factor for Hänsch and future activities.