Connected to the company - "Hänsch Jubilar Club"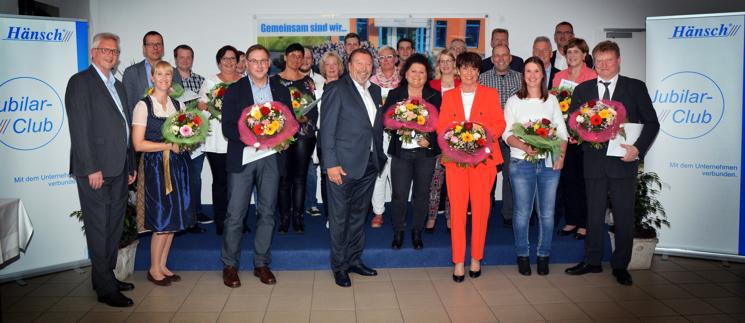 For the fifth time since the foundation of the company's internal "Hänsch Jubilar Club" in 2015, longtime employees of the company were honoured at the end of April for their loyalty to the company. This was traditionally done at an anniversary celebration, to which all employees who are members of the company for at least 10 years were invited.
New people celebrating a jubilee, from a period of employment of 10 years, were solemnly accepted into the "Hänsch Jubilee Club" and received, among other things, their personal club card as a sign of recognition. The "Hänsch Jubilar Club" was expanded this year by a total of eight new members. The fact that this number is increasing every year is an indication that employees feel comfortable in the company.
Besides the people celebrating a jubilee of 10-, 15-and 20-years, the club also includes several employees who have already been associated with the company for 30 years. Both the company owner Hans-Jürgen Hänsch and the management found particularly appreciative and praising words for these anniversaries. Such long-standing and loyal employees serve as role models for the next generation and are an important building block for Hänsch's unique success story.
All anniversaries can be proud of their work and commitment. They are the basis for expanding the leading market position in the future. It is only through the active support and know-how of the employees that the smooth running of an innovative company is possible. Thanks to the experience of long-standing employees, the colleagues can benefit from each other and thus continuously optimize internal operating processes.