COMET S on the Ski Slopes – Kässbohrer Pistenbully Counts on Hänsch Quality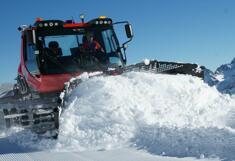 You won't find Hänsch products just on the streets, but in the world's major ski resorts as well. The company Kässbohrer has decided to switch over to the COMET S by Hänsch on account of its superior quality and maximum warning effect.
Maximum luminosity and a fully illuminated light dome guarantee full visibility on the ski slopes.
The different versions of COMET S – fixed installation, tripod mounting (flexible or rigid) or with magnetic adhesion – provide an ideal solution for any vehicle.
A large selection of different flash patterns, optional day and night switching, and the opportunity of a "soft" flash pattern to reduce glare in the dark offer customisable applications.
In extreme weather conditions, snowplough equipment requires the highest of quality, robustness and durability. DURABLE – FLEXIBLE - ROBUST – POWERFUL/EFFICIENT: these advantages of the COMET S LED, as well as its flat design (height: 85mm), are what won Kässbohrer over. The company equips all Pistenbully models with the Hänsch COMET S LED.
Further information COMET S LED
Photo: ©Kässbohrer-Pistenbully