Cádiz Fire Brigade Consortium in Spain relies on Hänsch's warning systems

Successful cooperation with Spanish partner Surtruck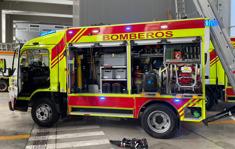 Sevilla/Herzlake. The warning systems from Hänsch, a manufacturer based in the German state of Emsland, are valued for their quality, not only in Germany, but also beyond the country's own borders. An international partner of the Herzlake-based company is the Spanish firm Surtruck from Seville.
Surtruck won the tender for the Cádiz Fire Brigade Consortium. The vehicles will be used not only in Cádiz, but throughout Andalusia. Shortly before Christmas, the first 12 of 23 vehicles were put into service. The remaining ones will be delivered in the coming months, 7 of them to 6 fire stations in Algeciras on the border with Gibraltar.
The emergency vehicles - based on the Mitsubishi Fuso model - were chosen because of their reduced dimensions and maneuverability, enabling them to get to the scene of the incident without any problems through the narrow streets of the old towns. "Due to their sleek design and advanced hydraulics, the vehicles are among the most advanced currently available nationally and internationally," explained William Ferro, engineer at Surtruck.
When it comes to special signaling systems, the Spanish company relies on the long-lasting solutions from Hänsch. To ensure the best possible visibility and warning effect, the following products are installed on the vehicles:
The Integro solutions and the functions of the HBE 300 were developed in consultation with Hänsch and programmed according to the specifications of the Andalusian fire department. Thanks to the close exchange and the modern production facility in Herzlake, the tight schedule up to delivery could be met.
The recipe for success of the good partnership is based on a similar vision. Values such as innovation, reliability as well as high quality and service standards are firmly anchored in the philosophy of both companies. According to Ferro, "With Hänsch, customer satisfaction comes first. The customized solutions and fast delivery times are particularly impressive."
Pascal Bertolone, International Sales Manager of the Herzlake-based warning system manufacturer, is also extremely satisfied with the Emsland-Seville cooperation. "We supply not only products from our blue portfolio, but also from the amber one to Spain. Surtruck's street cleaning vehicles, for example, are equipped with our COMET LED beacon. We are looking forward to continuing the trusting cooperation and thus to sustainably expand our position on the Spanish market."