Municipal hybrid vehicle equipped with warning systems from Hänsch
Highest level of visibility for road traffic work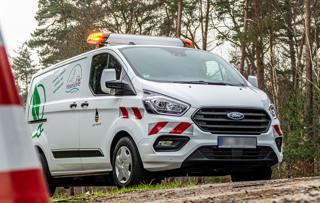 In recent years, Hänsch has consciously addressed the issue of sustainability and energy efficiency and has also adapted the development of its warning systems for use on low-emission vehicle models.
The first hybrid vehicle (Ford Transit Custom) of "Bauhof Haseluenne", a municipal building yard, based in Northern Germany, also relies on the high-quality and technology from Hänsch.
The energy-efficient signalling systems offer a modern design, a diverse ange of functions, and powerful LED lighting technology. Due to the aerodynamics of the DBW 4000 warning system, CO² emissions can be reduced. In addition, the noise level inside the car as well as the power consumption is reduced.
Optimal equipment with conspicuous warning systems is very important, especially for municipal vehicles of road maintenance services, building yards or public utilities, in order to offer safety and protection during work in road traffic. For further protection to the rear, the COMET SR beacon with rotating light function is mounted. The COMET SR convinces not only by a flat and unique design, but due to the rotating light (ECE-R65 approval) by a high level of visibility and warning effect.
"The products by Hänsch round off the overall concept of sustainability. At the same time, they ensure the greatest possible safety and warning effect in road traffic," explains Mr. Elmar Leigers (deputy manager, Bauhof Haseluenne).
Further information about all "amber" applications can be found here.
> Click on the image below to enlarge the slideshow.