2017 training programme kick-off – Hänsch welcomes its new trainees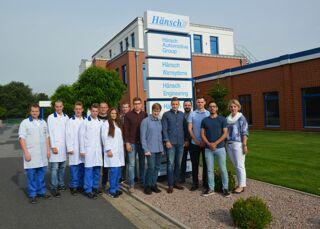 This year, a total of nine young professionals are starting their vocational training at Hänsch. Traineeships are offered in two areas: business administration and industry/technology.
This year, the dual vocational training and degree programmes (Bachelor of Arts and Bachelor of Engineering) will also be offered through the Osnabrück University of Applied Sciences (Lingen campus) once again, in addition to traineeships for prospective electronics engineers, business administrators in office management and qualified IT specialists in system integration.
At Hänsch, in-house vocational training is highly valued. We are counting more and more on specialists from our own ranks and provide a variety of opportunities for professional and personal development. Our modern development department, ideally equipped manufacturing centre and high-quality offices are the perfect basis for professional working life.
Promoting the next generation and jobs that are geared towards the long term guarantee innovative strength, flexibility and a high standard of quality. Through its learning partnerships with schools, Hänsch makes contact with the employees of tomorrow at an early stage. Active cooperation with universities and other institutions of higher education also help us find the next generation of workers.
Once they have successfully completed the training programme, the majority of those just starting out are given the opportunity to continue working at Hänsch.
Hänsch will also be offering traineeships for 2018, facilitating a smooth transition from school to career for recent graduates.
We'd like to give the new trainees a warm welcome and wish them the best of luck as they begin their professional lives. The photo shows our new colleagues and their supervisors in each department.