News from the Hänsch Product World
Even if everything is a bit different these days, one thing is certain: we continue to develop solutions with our customers to meet individual requirements in the best possible way. Furthermore, we offer various upgrades to existing signalling systems. In view of the current pandemic, today we are presenting products which you can use to make voice announcements, to connect external audio sources and to record as well as play back voice sequences.
Audio control module 2 (ASM2)
Emergency personnel, security staff or public utility workers: All of them are often tasked with informing and warning the public. Usually, the only way to do so is a public address microphone which is connected to the exterior loudspeakers of a tone sequence system. If additional audio- or low-frequency- sources are to be imported, other media such as MP3 players or cellphones are usually at hand. For these devices the ASM2 serves as the interface to the tone sequence or amplifier for public address. The audio sources are selected via a CiA447-compatible control unit, routed to the amplifier's audio frequency inputs from the ASM2 and played through the pressure chamber loudspeakers. Additionally the ASM2 offers the option of a 10-second voice recording which can be played in an continuous loop or in alteration with the tone sequence. The flexibility and quality of audio frequency signal processing are two more assets completing this product.
Rod microphone H2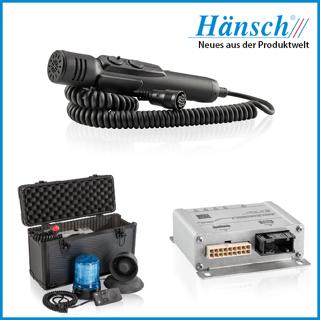 The new rod microphone H2 is used for public address with a Hänsch tone sequence amplifier, a Hänsch amplifier or a Hänsch ASM2. his brand new development impresses with improved speech quality and a broader volume control range. Back coupling is reduced immensely. The microphone can be used from any angle and no longer has to be brought up to the lips for public address. While developing the rod microphone H2, we focused on a cleaner PPT pressure point.
Mobile case system
The mobile case system in an aluminium pilot's case provides the user with a complete visual and acoustic solution. The mobile case system is particularly suitable for users who do not have a warning system permanently installed in their vehicle but require one in the event of an emergency. The individual components of the warning system can be stored and transported safely in the pilot's case. During the emergency, both the MOVIA SL and the loudspeaker DKL 604 can be attached to the vehicle roof by magnet. The magnetic fixing is tested up to 250 km/h. The mobile case system thus enables a simple, non-invasive upgrade of a civilian vehicle to an emergency car. In addition, the mobile case system is available either with DIN 14610 or US tones.
Would you like to learn more about our products or do you have any questions? Then please do not hesitate to contact our experienced sales team. Prior to this, you can get an overview of our complete product range here on our website.