COMET S now now available with clear light dome
• Efficient • Powerful • Long-lasting • Extra flat • Flexible
Our new COMETS beacons combine all the familiar properties of the COMET LED beacons but come with new functions in an extra-flat design.
As well as the blue, red and amber cover colours, the COMET S is also now available with a clear light dome.
The clear light domes are the perfect alternative to the current versions.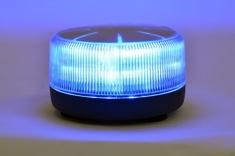 COMET S now with clear light dome:
Colour: amber, blue, red
Voltage: 9-32 V
Outer diameter: 156 mm
Total height: 85 mm
Certifications:
COMET S (amber with clear light dome) TA1 E1 00 4591
COMET S (blue) TB2 E1 00 4425
COMET S (red) TR2 E1 00 4427
EMC:
COMET S - E1 10R-05 7965